Sometimes small updates can make a big difference.  Our porch light just wasn't doing it for me.  It felt bland and boring, and didn't really set the tone for what I want the house to feel like.
Zzzzzzz…..wha?  It doesn't exactly say ARTS AND CRAFTS BUNGALOW, does it?
A quick trip to Lowes with a birthday gift card later (thanks, Mom and Dad!) and I came home with this: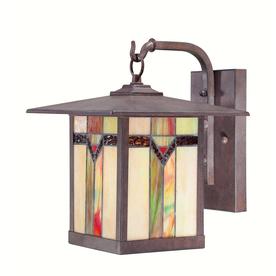 Nice, Huh?  It looks really nice at night when it's lit, just a soft and warm light.  Here's where the front porch is now:
Like I said, a small but nice improvement.  With spring hopefully on the way, we can do more updates (paint the door!  plants!  patio furniture!) and get some curb appeal going.
Thanks for reading!